1960
Born in London, England to "runaway couple" Tessa and Dominick
1968
With mother and brothers at Way In, Harrods
1969
Gored by a bull at a Spanish fiesta
1976
Bicycles from Bordeaux to Monte Carlo
1979
Backpacks from Argentina to Colombia before attending Harvard College
1980s
paints in the locations where Delacroix and Matisse made artworks in Morocco
1982
Photographed by Andy Warhol
1983
receives Matisse's palette knife as a graduation present from Harvard playwright Professor Bill Alfred
1983
Keith Haring encourages Elwes to start painting
1983
Takes over an abandoned building on West 56th Street, NYC and fills it with graffiti
1984
Exhibits with Robert Fraser Gallery alongside Haring and Basquiat
1985
Robert Fraser introduces Elwes to Jean Michel Basquiat
1986
Exhibits at the Salon des Independents, Paris
1986-7 Lives in Paris and paints every artist studio he can find
1988
Begins building a house and studio in Colombia, overlooking a rainforest
1990
Paints portrait of Elizabeth McGovern for Brad Pitt's character in the "The Favor"
1991
Makes a portrait of writer Paul Bowles in Tangiers
1992
Solo show at Earl McGrath, Los Angeles
"Byron, Keats and Shelley in Italy"
1992
meets David Hockney who becomes a friend and mentor
1994
Solo show at Galleria El Museo in Cali, Colombia "Toros"
1996
Prince Dado Ruspoli marries Damian and Lewanne at his Palazzo in Rome.
1996
Solo exhibition at Robert Berman Gallery, Santa Monica. "Edge of the Forest" is a panorama of 12 adjoining paintings
1998
Solo show at the Richard Salmon Gallery, London
"Forest of Statues" is a series of adjoining paintings of trees
1998
Creates a vast floor painting describing a source of the Amazon River
1998
British Vogue does a feature article about the Elwes family in Colombia
2003
Exhibits at Francis Naumann, New York
"Reflections on Marcel Duchamp in Modern and Contemporart Art"
2004
Solo show at Francis Naumann, New York City
"The Studios of Matisse, Picasso, Warhol and Duchamp"
2005
Marina Zenovic films a documentary "Inside Picasso's Studio" about the creation of a panoramic painting of Picasso's villa
2006
Solo Show at M+B Fine Arts, Los Angeles "Picasso's Villa La Californie" curated by Fred Hoffman
2006
Solo show at Scream, London
"Artists' Studios"
2007
Solo show at Scream, London
"Artists' Studios ll"
2008
Solo show at LeFevre Fine Art, London
"Creative Spaces"
2010
Solo show at Serena Morton, London
"Humanature"
2015
Exhibits at the Fleming Museum, Vermont
"The Creation and Legacy of Picasso's Demoiselles d'Avignon"
2015
Exhibits at El Segundo Museum of Art, Los Angeles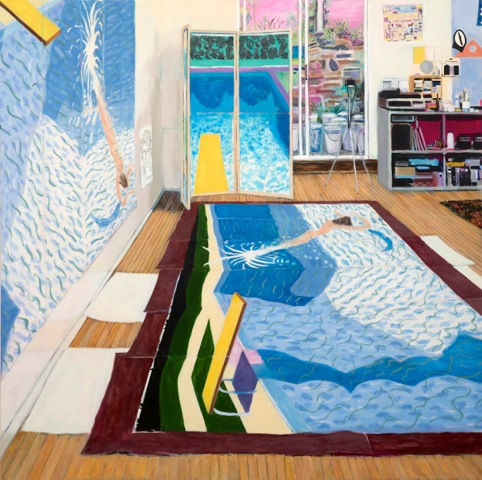 2016
Solo show at Modernism, San Francisco
2016
Solo show at Serena Morton, London
2018
Retrospective of Damian's artist studio paintings and portraits of artists at Le Musée en Herbe, Paris
Damian Elwes is represented
in U.K. by "Serena Morton Gallery" LONDON Contact: serena@serenamorton.com
in U.S. by "Modernism Inc" SAN FRANCISCO Contact: danielle@modernisminc.com